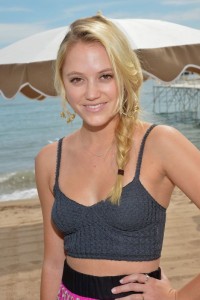 American actress Maika Monroe recently garnered mainstream attention for her notable lead performance in the acclaimed horror film It Follows released in 2014, along with another horror feature The Guest, ultimately bagging the title of a "scream queen". Prior to this, she made her first movie role in At Any Price released in 2012. The following year, her career became more promising when she was acted alongside A-list star Kate Winslet in Labor Day. After getting further prominence for her roles in the aforementioned movies, she appeared in the films Echoes of War and The 5th Wave. She was also cast as Patricia Whitmore in the upcoming Independence Day sequel Independence Day: Resurgence to be released in 2016.
Standing at 5'6, Maika is not only known for her talents in acting but also for her subtle beauty accompanied by her slender figure. Such are the reasons why it didn't take long before she could achieve the kind of recognition that every actor/actress in Hollywood seeks for. With a couple of major Hollywood productions that she was or is part of recently, it is for sure that the young actress will succeed in her endeavor as an actress. As she steps up in the stairs of stardom, Maika makes sure she does so healthier and fitter.
Basically, beauty is something she sees on the inside, but of course, she also has to be careful when it comes to her physical well-being to do her job as a performer more effectively. In an interview when she turned 18, she said that it was the period that she has to start to be more cautious of her weight. She said that although it's not something that she's obsessed about, it just gave her the thought of choosing the kinds of food she really wants to eat. She also added that most of the time she's having second thoughts on whether to eat sweets or not.