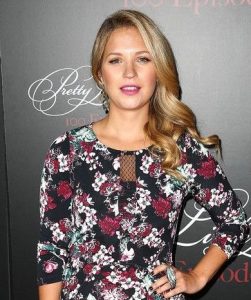 Actress Vanessa Ray debuted with roles in short films in the early 2000s. She later made her feature debut in the movie Finding Chance. At the same time, she had her first TV appearance The Battery's Down, followed by a guest appearance on Bored to Death. Her first notable role on television was as Teri Ciccone on the soap opera As the World Turns. Following this, she played recurring character Tessa Marchetti on Damages. This was followed by guest roles on White Collar and Nurse Jackie. From 2011 to 2012, she played Jenny Griffith on Suits.
She became further known for her role as CeCe Drake / Charlotte DiLaurentis on the television series Pretty Little Liars, which she played from 2012 to 2017. Simultaneously, she also started playing the role of Officer Eddie Janko on the CBS series Blue Bloods. She still stars on the show up to present. In addition, she has also appeared in the films Nice Guy Johnny, Not Waving But Drowning, Frances Ha, The Last Day of August, Mutual Friends, and Devil's Due. More recently, she's had starring performances in the movies All in Time, The Rumperbutts, and Serialized.
The 37-year-old actress stays fit and healthy thanks to her clean diet plan. Basically, she focuses on eating a balanced diet. While she does not follow any strict diet regimen, she makes sure that she eats natural and well-rounded foods most of the time. She avoids processed foods as much as she can. She also eats in moderation, not allowing herself to overindulge. Her diet plan mainly consists of proteins from fish and chicken with lots of vegetables alongside it. She also consumes lots of whole grains as well as fiber-rich foods like fruits and more veggies. She snacks healthily, too. During sets, she avoids getting hungry by snacking on nuts, fruits, and yogurt.