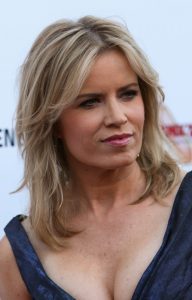 Hollywood actress Kim Dickens had her career beginnings in the mid-1990s. When she was just starting, she made her film debut in Palookaville. She next starred in the movies Truth or Consequences, N.M., Zero Effect, Great Expectations, and Mercury Rising. In the 2000s, she became known for her starring roles in the films Hollow Man, The Gift, Things Behind the Sun, and House of Sand and Fog.
During this period, she also became active on television. She starred as Joanie Stubbs in Deadwood, played Jonelle Shakespeare in 12 Miles of Bad Road, and also played Shelby Saracen in Friday Night Lights. In the 2010s, she starred as Janette Desautel in Treme, Colette Jane in Sons of Anarchy, and Kate Baldwin in House of Cards. Since 2015, she stars as Madison Clark in Fear the Walking Dead.
The 52-year-old actress stays in shape by sticking to a healthy diet. She mostly avoids processed and junk foods. Her diet focuses on natural, whole foods. As she ages, she knows how it's more important for her to be careful of what she eats and drinks. She practices a clean diet regardless of whether she's working or not. She starts her morning by doing water cleansing.
She said in an interview: "I start every morning with a large glass of water with a whole lemon squeezed into it to cleanse – I've done that for years. I immediately counter that with two cups of strong coffee while I check emails and read the news on my iPad."
When asked what her ideal food day would be, she answered: "I would start the day with stovetop espresso and birthday cake from the night before. For lunch, I'm easily satisfied and anything in the deli counter at Erewhon would be great. And for dinner, I'm happiest having pasta and wine."