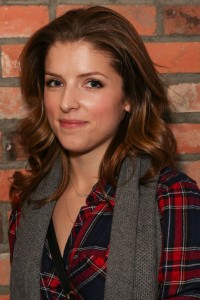 The petite actress is always effective when it comes to playing younger roles because of her short stature and her overall youthful vibe despite being already in her 30s. Starting her career as a child, she went on to perform on Broadway and was acclaimed for it at only age 13. She then ventured onto the screen and first gained notice for her supporting role in the Twilight films. She proved her natural flair for acting after getting an Oscar nomination for Best Supporting Actress for her performance in Up in the Air.
This led her to star in more movies in the 2010s like in Scott Pilgrim vs. the World, What to Expect When You're Expecting, End of Watch, and the popular musical comedy film Pitch Perfect. She also played Cinderella in Into the Woods (2014) and recently starred in Pitch Perfect 2 (2015). Being the popular actress that she is, Anna has a lot of upcoming movies all her fans are eager to watch.
Standing at 5'2, the actress surely is one of the cute ones in Hollywood. She's always been known for her contagious smile and slim physique. Interestingly, the actress admitted to having an eating disorder in her early 20s, but she's over it now. Because her slender figure is her natural body, she's not very picky when it comes to food. In fact, the actress loves food and enjoys eating her favorites. Thus far, she doesn't set any strict limits to herself. She takes delight in the experience of eating food that she likes.
But it doesn't mean that she's not careful. Just like other celebrities, Anna also has a nutritionist who guides her to enjoy her food in a healthier way. Thus, the actress is also cautious when it comes to her intake of carbs and calories. Of course, she doesn't want any extra, unnecessary pounds just like everyone else. This means that though she relishes on the foods she eats, she makes sure she doesn't consume a lot. She puts moderation into mind all the time.