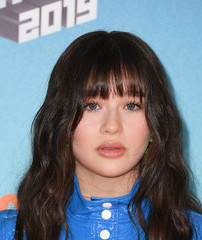 Rising star Malina Weissman started her Hollywood career in 2014. This was when she played young April O'Neil in the superhero film Teenage Mutant Ninja Turtles. She next made her television debut playing the role of Renée Epstein in 2 episodes of the web series Difficult People. She then gained notice for playing Young Kara Zor-El in the television series Supergirl, a role she played from 2015 to 2017.
At the same time, she acted in the independent film Thirsty. She also played the role of Rebecca Brand in the feature film Nine Lives, co-starring with Kevin Spacey and Jennifer Garner. Her breakthrough role, however, came in 2017 as Violet Baudelaire in the web series A Series of Unfortunate Events. The show aired on Netflix for three seasons from 2017 to 2019, gaining her mainstream recognition.
Even at an early age, Malina Weissman tries to practice a healthy lifestyle. She knows what's good for her and what's not, and consciously tries to avoid unhealthy foods. She tries to eat plenty of veggies and fruits as part of her day-to-day, as well as fish and chicken for proteins. She has eggs, whole grains cereal and oatmeal, as well as yogurts and nuts for snacks. Nevertheless, she doesn't necessarily follow any dieting plans.
She still eats whatever she wants, but only minding proper portion. In other words, she's careful not to binge-eat. In interviews, though, she doesn't deny her cravings for foods that aren't very healthy. She said she enjoys chocolate Nutella pancake for breakfast, pizza for lunch and mac and cheese for dinner.
She fantasizes on spending a day with her friends just eating pizza and burgers even though they're unhealthy. She also wants to chill with her friends just eating desserts and popcorns. And she does eat those when she wants to but she makes sure she focuses on having healthy meals most of the time.