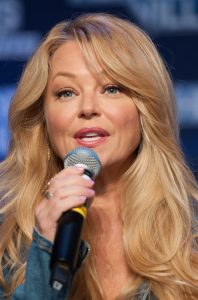 Actress Charlotte Ross got her start in the mid-1980s, debuting in the 1986 film Touch and Go. She next had her first television work as Eve Baron Donovan on the soap opera Days of Our Lives. She played the said role from 1987 to 1991. Also for her performance, she was nominated for a Daytime Emmy for Outstanding Younger Actress. After her stint on the show ended in 1991, she starred on the made-for-television film Reasonable Doubts. She next starred as Hope Linden on the short-lived series The Heights.
She later starred as Bree Buchanan on the CBS sitcom The 5 Mrs. Buchanans. At the same time, she appeared in the film Love and a .45. Later in the '90s, she starred as Dawn Delaney on Pauly and Fiona McCallister on Trinity. In the 2000s, she starred as Lori Volpone on the Showtime series Beggars and Choosers. From 2001 to 2004, she gained wider recognition for her role as Det. Connie McDowell on NYPD Blue. After this, she appeared in 3 episodes of Jake in Progress. Her next work on the small screen were mostly TV movies such as on Montana Sky and Ring of Death. In the 2010s, she was best known for her role as Donna Smoak on Arrow. She also played Judy Fabray on Glee and Olivia Vincent on Hit the Floor.
Apart from her workout routine, the 50-year-old actress swears by a healthy diet in maintaining her slender figure. She avoids processed and junk foods. Instead, she focuses on organic foods. Her food options mostly consist of whole grains, as well as fruits and vegetables. She also prefers making homemade meals rather than eating out. This way, she gets to choose everything she puts into her food. As for snacks, she loves nuts, fruits, and yogurt, to name a few. One of her diet tricks is eating in moderation and drinking lots of water.