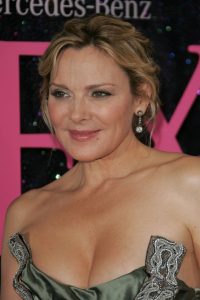 Hollywood star Kim Cattrall got her start in the 1970s. She made her film debut in 1975's Rosebud. The following decade, she gained recognition for her role as Cadet Karen Thompson in the movie Police Academy. She later starred in the films Big Trouble in Little China, Mannequin, and Midnight Crossing, among others. During the '90s, she starred in the films Star Trek VI: The Undiscovered Country, Split Second, Unforgettable, and Modern Vampires, among others. She also starred in the miniseries Wild Palms and in the short-lived series Angel Falls.
She rose to greater fame in 1998 when she started playing the role of Samantha Jones in Sex and the City. The show aired on HBO for six seasons, making her a television fixture along her castmates. She went on to reprise her role as Samantha in the films Sex and the City and Sex and the City 2. From 2013 to 2016, she played Davina Jackson in the TV series Sensitive Skin. More recently, she played US President Helen Tyler in the Swedish show Modus. In addition, she will star in the upcoming series Tell Me a Story.
The 62-year-old actress revealed she's been dieting since 1976. She said: "I've been on a diet since 1976 because I love to eat. I come from British stock, with lots of meat and potatoes, and I have my dad's appetite. I'm a sensualist who loves taste and flavor. But as I get older, it gets harder." She also believes that dieting doesn't mean starving yourself. "Diet is just a plan of eating. It doesn't mean starving yourself. I've never starved myself. I like myself too much to starve myself. But yes, I have to diet because I have a big appetite," she said.
She went on to say: "When I was coming up everybody was on the Atkins diet. Dieting used to be just not eating pie or dessert. There's so much more information about living longer and what you should or shouldn't eat. So yes, I'm on a diet! As we speak I'm on a diet. But it doesn't mean I don't eat a hamburger or French fries. I balance everything."