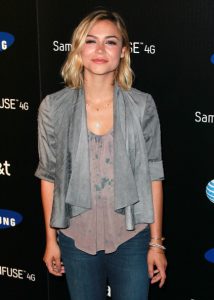 It was in 2000 that American actress Samaire Armstrong started her career in Hollywood. During this start of her journey, she had guest appearances on various shows. Her first movie role was in 2001's Not Another Teen Movie. She then gained attention for her recurring role as Anna Stern on The O.C.. At the same time, she also played Emily on Entourage. Subsequently, she starred in the movie Stay Alive and had a supporting role in Just My Luck. She next appeared as Jenny in the movie Rise: Blood Hunter. Adding to her television work, she also played Juliet Darling on Dirty Sexy Money and Summer Edgecombe on The Mentalist. Her first regular role on television was on Resurrection as Elaine Richards. More recently she's had guest roles on shows with the latest on Arrow and Grey's Anatomy. Her most recent work on the big screen was 2015's Windsor Drive.
Samaire is a healthy eater. Being in her late 30s, she knows how it's now more crucial for her to be careful when it comes to what she eats. While she admits that she was more carefree with her eating when she was younger, now is a different story. She knows how clean eating can make one look younger with high energy levels. This is something she aspires to achieve, not only as an actress but as an individual in general. For this reason, she mostly stays away from processed and junk foods.
She focuses on eating nutritious meals. She makes sure her everyday diet is clean, balanced, and well-rounded. And she really chooses the healthier option as much as possible. Most people love coffee, but Samaire prefers green tea because it's healthier. In an interview, she said: "It is also a fantastic alternative to coffee or sugar-free Red Bull." She's also fond of eating Edamame. "It's a favorite snack of mine," the actress shared.