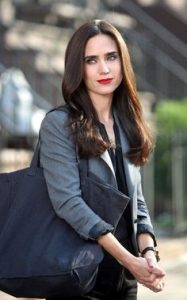 International star Jennifer Connelly was a teenage beauty when she was first noticed in Hollywood. Thanks to her remarkable screen presence in Sergio Leone's Once Upon a Time in America, she has since established a successful career in the industry. During her initial years, she was known for starring in Labyrinth, Career Opportunities, and later in the sci-fi movie Dark City. She proved her talent when she delivered a heart-wrenching performance in the drama Requiem for a Dream. To make it more interesting, she won an Oscar for her supporting role in Ron Howard's A Beautiful Mind. She is best known for several starring characters in box office hits, such as Hulk, Dark Water, Blood Diamond, The Day the Earth Stood Still, He's Just Not That into You, and Noah.
The mother of three looks more slender in the present compared to her younger years. Her present thinner frame even caused her to be accused of undergoing plastic surgery for a breast reduction, when in fact, she just shed significant amount of weight. Despite looking slimmer, the actress still manages to look fit and healthy. What's her secret? Aside from a healthy diet plan, she also engages in exercises. What exactly are her favorite physical workout sessions?
For one, Jennifer doesn't really obsess about how she looks physically. What's more important for her is her well-being and happiness. Thus, she works out to be healthy. To have a great figure is just a bonus. To keep in shape, she makes sure she always has time to run long miles (usually 6-10 miles). Running has always been her favorite workout. Though she had tried doing jumping lunges, she wasn't pleased with the experience. She also does yoga from time to time. Because of her skinny frame, she has been rumored to be suffering from anorexia, but these claims are concluded as baseless.