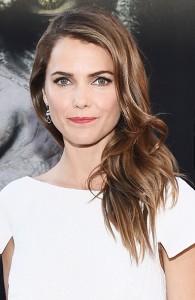 39-year-old American actress Keri Russell first achieved fame on television, thanks to her memorable performance of the titular character on the television show Felicity in the late 1990s to early 2000s. Her portrayal of the said role was highly remarkable that she even won a Golden Globe Award for Best Actress. Prior to that, she had already appeared on some shows and was even part of Mickey Mouse Club in the early 1990s during her teenage years. Her exposure on Felicity led her to land roles in some prominent Hollywood productions, such as in We Were Soldiers, Mission: Impossible III, and August Rush. She was also praised for her performance in the indie movie Waitress (2007). She recently starred in the movies Austenland and Dawn of the Planet of the Apes. She returned to primetime television in 2013 as the female lead in The Americans.
Former Felicity actress may be getting older but it doesn't look like she is. With her new character in The Americans, Keri was able to show how fit, lean, and agile she is that her portrayal of a KGB agent with all her action scenes are just excellent. For one, Keri doesn't believe in fad or any crash diets that other celebrities rely to in order to lose weight and appear slimmer. She admits to being a food lover and how she indulges herself to foods that she likes as long as she doesn't overeat.
She also reveals that she doesn't put any strict preference on what she likes to eat. For her, it doesn't make sense how people remove their favorite foods from their diet just so they can look tiny. Despite her seeming like not being cautious in choosing her foods, she actually practices moderation always. Moreover, she only started to recognize the health benefits of eating green, leafy vegetables when she entered her 30s. Now that she's in her late 30s and will even be turning 40 this year, Keri acknowledges the benefits of eating organic and how it helps her look not only great but also healthy.