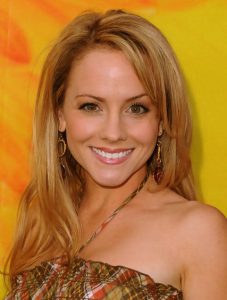 Kelly Stables first appeared in the 2002 film Spider-Man doing stunts. She also performed stunts in the horror film The Ring. Her first acting role was in the low-budget movie The Grubbs. From 2004 to 2006, she voiced Will Vandom in the animated series W.I.T.C.H. Also during this period, Stables had roles in the films The Haunted Mansion, Pride & Prejudice: A Latter-Day Comedy, Bring It On Again, The Ring Two, and State's Evidence. She next played recurring character Janette in the comedy-drama series Greek.
Between 2008 and 2010, she appeared as Melissa in the sitcom Two and a Half Men. At the same time, she starred in the television film Santa Baby 2: Christmas Maybe. In 2010, she starred as Lisa Thomas in the short-lived series Romantically Challenged. Stables became further known for her role as Eden Konkler in the TV Land sitcom The Exes, which she starred in from 2011 to 2015.
During this period, she also had voice roles in the animated films Cloudy with a Chance of Meatballs 2 and Tom and Jerry: The Lost Dragon. In 2014, she played the role of Rachel in the dark comedy film Horrible Bosses 2. From 2016 to 2017, she played Mary Anne in The CW's No Tomorrow. As of 2017, she plays the role of Kelly in the NBC sitcom Superstore.
Aside from following a clean diet plan, Kelly Stables keep her body fit and healthy by being consistent in her workout routine. "I want to keep it up this year. I have a great personal trainer and follow the three key ingredients to staying healthy — strength training, cardio, and good nutrition. I also want to mix it up my routine with hiking, yoga, jogging, going on walks, playing softball, and doing Pilates," said the actress.