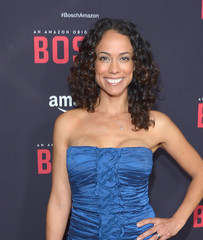 American actress Daya Vaidya started her career in 1998, debuting in 2 episodes of the TV series One World. She next appeared as Emily in several episodes of Hyperion Bay. In the 2000s, she first appeared in the straight-to-video film Leprechaun in the Hood. She later made her big screen debut in the film Naked Brown Men. During this period, she mostly guest-starred on television. She had appearances in Haunted, Robbery Homicide Division, NCIS, Cuts, All of Us, and Lincoln Heights.
She later appeared as Lucy in an episode of the sitcom Two and a Half Men. At the same time, she had performances in the movies My Baby's Daddy, Almost Too Late, Clean Up Men, The Hit, and Blue. Vaidya also had roles in the straight-to-video films Motives 2 and April Fools. From 2011 to 2012, she became known for her starring role as Nina Inara in the CBS series Unforgettable. She then played recurring character Jen Kowski in the Amazon series Bosch. More recently, she played recurring role Martina Morales in General Hospital. Her latest film roles were in 2017's Beacon Hill and 7×7. She also guest-starred in Major Crimes.
Daya Vaidya takes her fitness and overall health seriously. Her workout routine has never been the same, especially after becoming a mom. "In 2012 it's all about flexibility, strength, and endurance. Since I gave birth to my daughter, my flexibility has really decreased and because I am continuously carrying her, my shoulders are starting to round," said the actress.
"I've noticed that if I find a few moments throughout my day to take three deep breaths, it actually improves my posture. Picking up a tip from years of dancing, expanding your rip cage and breathing from your diaphragm also makes you stand up straighter! For endurance I jog regularly, but want to increase the amount of time I stretch and add in a couple of days of yoga," she added.