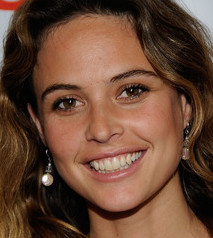 Entrepreneur and celebrity Josie Maran first gained recognition for her work as an actress. Some of her early works on television include appearances in The Howard Stern Show, The Late Late Show with Craig Kilborn, and other late-night talk shows. As a movie actress, she first appeared in 2002's The Mallory Effect, quickly followed by a role in the movie Swatters.
In 2004, she played a small role in the film Van Helsing. She later became known for her performances in the films Little Black Book and The Aviator. She next played the voice of Mia Townsend in the video game Need For Speed: Most Wanted. Her latest film role was in 2005's The Gravedancers.
Later in 2007, she joined the reality series Dancing with the Stars as a contestant. However, she was eliminated during week one. She then appeared in the reality show America's Next Top Model, Cycle 13 as a guest judge. Maran had also performed in some short films and music videos. She owns the natural cosmetics line Josie Maran Cosmetics.
Back in 2012, the celebrity became candid about her healthy lifestyle. Aside from a clean diet plan, she stays in shape by sticking to an active lifestyle. "I'd like to really focus on fitness in 2012 by mixing it up between high-energy dance classes and getting outside in nature," said the actress.
"Nothing beats a good hike on a sunny trail. I also want to maintain a balance in my life. I'll focus on exercising and eating right but will also remind myself that it's okay to sleep in and have a slice of pizza every now and then," she added.