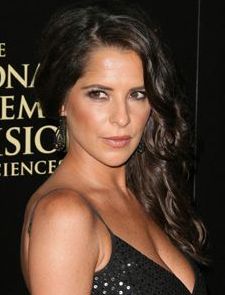 Hollywood actress Kelly Monaco had her beginnings in 1997, debuting with a small role on Baywatch. She later made her first movie role in 1998's BASEketball. She next had performances in the films Welcome To Hollywood, Idle Hands, and Mumford. At the same time, she starred on the made-for-television movie Late Last Night. In the 2000s, she had her first starring role on the small screen — as Livvie Locke on the ABC soap opera Port Charles.
Afterward, she landed the part of Sam McCall on the medical soap opera General Hospital. For her performance here, she was nominated for the Outstanding Lead Actress in a Drama Series at the Daytime Emmys in 2006. She stars on the show up to now. Simultaneously, she also appeared on the reality series Dancing with the Stars as a contestant for seasons 1 and 15. In the 2010s, she starred on the E! series Dirty Soap, as well as starred in the TV film The Edge of the Garden. In 2015, she appeared as herself in an episode of the sitcom Baby Daddy.
The television star stays in shape by being mindful of her diet choices. Apart from her active lifestyle, she eats clean. For starters, she has her own garden which ensures that the meals she prepares are all healthy. "I grow my own herbs, spices, mints," says Monaco. "I cook a lot, actually. I have zucchini, cucumbers, peppers, 14 different varietals of tomatoes. It's amazing," said the actress.
She's a vegetarian so her diet is entirely plant-based and it has worked for her ever since. When she's working out, she munches on healthy snacks to keep her going. This includes bananas, oatmeal, balance bars, and Muscle Milk protein shakes. Of course, she also has cravings and since she has a sweet tooth, she loves to indulge in chocolates. Twix and Reese are her favorites.