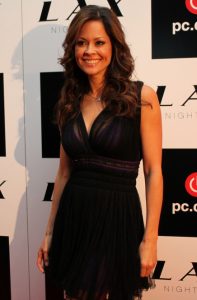 In 1998, Brooke Burke got her first credited role in an episode of Pensacola: Wings of Gold. Prior to this, she appeared as an extra in the 1986 film The Wraith. From 1999 to 2002, she gained recognition for hosting the television program Wild On! She subsequently made one-episode roles on multiple TV shows, which include That's Life, Rock Me Baby, Monk, Less than Perfect, It's All Relative, and The Bernie Mac Show. She then continued her hosting work, this time with the TV show Rockstar: INXS, followed by Rockstar:Supernova.
At the same time, she appeared in an episode of Las Vegas. Afterward, she had a recurring character as Ellen Morgan on the sitcom The War at Home. She also had roles in the low-budget films Dead Scared and Knuckle Sandwich. In 2008, she appeared as a contestant on Dancing with the Stars' Season 7. She returned to the show as co-host from 2010 to 2013. Following this, she appeared as Felicia Mancini in 2 episodes of Melissa & Joey. She later appeared as herself in Jane the Virgin. Her latest appearance was a contestant in The New Celebrity Apprentice.
Apart from her healthy diet plan, the actress and reality star maintains a solid figure by being active. Being a dancer, getting active most of the time does come off easily. But being a mother of 4, sometimes it's hard for her to find the time to work out. So, she makes a schedule and makes sure she sticks to it. "I always pencil in my workouts there so I'll really do them," said the celebrity.
Ideally, she'd like to exercise five times per week. During her time with Dancing with the Stars, she said she'd find time to work out after dropping her kids at school. "I get on the treadmill, put it at a 15 percent incline and walk at about 3.5 miles per hour," she shared. She also loves Pilates, which she does thrice each week.