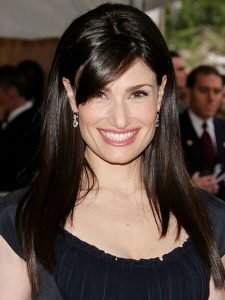 Prior to her screen acting career, Idina Menzel performed on stage. Her knack for singing and performing ultimately led her to Broadway where she gained attention. She first came to fame courtesy of her performance as Maureen Johnson in the Broadway musical Rent. This earned her a Tony Award nomination. In 1998, she made her TV debut with a voice role on Hercules: The Animated Series.
She later had her first cinematic role in the 2001 movie Kissing Jessica Stein. She next appeared in the films Just a Kiss, The Tollbooth, and Water. In 2005, she reprised her role as Maureen Johnson in the film adaptation of the Broadway play Rent. She next had a supporting role in Ask the Dust and played Nancy Tremaine in 2007's Disney film Enchanted. She also guest-starred in 2 episodes of Private Practice as Lisa King.
In the 2010s, she played recurring character Shelby Corcoran on the Fox series Glee. She found greater success after landing the role of Elsa in Frozen. She'll reprise her role in the 2019 sequel Frozen 2. Also in 2017, she starred as Cecilia Carol "C. C." Bloom in the TV movie Beaches.
To maintain a healthy body, acclaimed performer Idina Menzel eats healthily and exercises as regularly as possible. Being in the show business, both looking and feeling great is crucial for her to deliver her best as an artist. To do this, she does Bikram yoga. She also boxes and has a trainer to help her stay the course as far as her fitness regimen is concerned.
"I do Bikram yoga. I also like to box and I have a trainer. I take the art of boxing seriously, but make sure I don't get punched in the face. I do get to punch big, tough guys, and they practice their defense. It's a great workout for the core. I'm not so great with Pilates, because I find it too boring and slow, especially when I'm feeling really athletic," said Menzel in an interview.