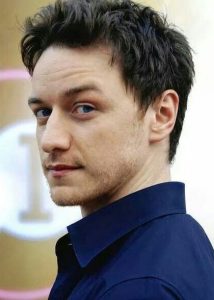 James McAvoy is a Scottish hottie who is now one of Hollywood's most talented and good-looking male stars. He simultaneously started a career in the movies and television, but it was in the latter that he was first noticed for his talent, particularly for his role on the TV series State of Play, followed by Shameless. He was then noticed as a movie star for his roles in The Chronicles of Narnia: The Lion, the Witch and the Wardrobe, followed by The Last King of Scotland and Becoming Jane, prior to earning acclaim for his performance in the romantic drama Atonement, for which he received BAFTA and Golden Globe nominations for Best Actor. He then established himself as an action figure courtesy of his lead role in Wanted, though it was his role as Professor Charles Xavier in X-Men: First Class and X-Men: Days of Future Past that garnered him international stardom. He recently starred in Victor Frankenstein and X-Men: Apocalypse.
The actor, thanks to his charm and undeniable talent, is now an A-list star. What makes him different from his contemporaries is that people look at him for what he can deliver as a versatile actor and not for his sculpted-like body. Despite his body looking average, James is actually very fit and healthy. His agility and stamina are apparent especially in the movie Wanted, where his scenes with heroine figure Angelina Jolie were purely magical. Thus, the actor proves that building huge muscles, biceps, and rock-like chest does not define overall health and well-being.
But in Wanted, it was obvious that James also engaged in some training to achieve a firm body. Good thing about it is that he didn't overdo his training. His trainer said he was naturally slim and only bulked him up a little. Aside from his training, James also practiced a diet plan complementing his workout routine. This includes eating mostly protein-rich food and staying away from those rich in fats and sugar. Even now, the actor focuses on eating clean and healthy food. He's into fish and chicken as protein is important, as well as fruits and vegetables. He also eats rice and pasta for carbs.