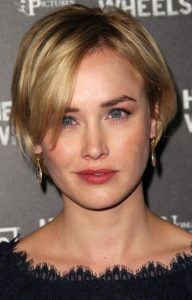 It was in 2001 that Hollywood star Dominique McElligott started her professional acting career. She debuted on the TV series On Home Ground. Her next role was in the miniseries Whiskey Echo, aired on television in 2005. She later appeared in an episode of Being Human, as well as played Rebecca Marsh in the Irish drama series Raw. During this period, she started pursuing acting as well — debuting in the movie Dark Floors. At the same time, she appeared in the independent feature Satellites & Meteorites. In 2009, she played Bella Olazabal on the TV series The Philanthropist, appearing in 3 episodes of the show.
She also starred in the movie Moon, followed by a small role in the romantic comedy Leap Year. Her first starring role in Hollywood was as Lily Bell in the short-lived series Hell on Wheels, which aired from 2011-2012. She simultaneously performed in the films The Guard and Not Fade Away. She also portrayed Etta Place in the Western film Blackthorn. In 2015, she gained wider recognition for her portrayal of Louise Shepard in the ABC series The Astronaut Wives Club. She later landed the role of Hannah Conway in Netflix's House of Cards, a role she played from 2016-2017. At the same time, she played Kathleen Moore in the short-lived show The Last Tycoon. She will star in the upcoming superhero series The Boys.
Apart from her diet plan, the Irish beauty stays in shape by sticking to an active lifestyle. She's always on-the-go so this helps her in terms of movements. When she's not busy, she hits the gym where she enjoys some me-time, either by just doing the basics like cardio or attending a yoga class. She also maintains her slim figure by being active outdoors. She loves to engage in activities that don't make her feel like she's working out. This can be in the form of hiking or swimming or even sports.