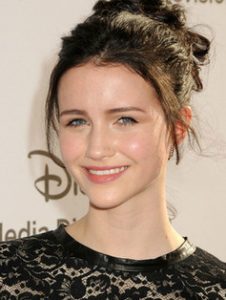 Hollywood star Julia Goldani Telles started her professional acting career in the 2010s. After auditioning for roles, she landed the part of Sasha Torres on the comedy-drama series Bunheads. This aired on television from 2012-2013. She next appeared in an episode of the shows Blue Bloods and The Carrie Diaries. She also had a three-time role as Mandy on the comedy-drama series Nurse Jackie. In 2014, she started playing the main role of Whitney Solloway on the Showtime series The Affair.
With the show's widespread success, the actress also earned further recognition among television audiences. She's still part of the show's main cast up to present. In 2016, she played Sandee Martin in an episode of Gilmore Girls: A Year in the Life. She recently pursued a film career this year, debuting in the movie Most Likely to Murder. Other roles on the big screen in 2018 are Hallie in Slender Man and Emma Harper in The Wind. She was also cast in the upcoming film Looks That Kill.
Teh 23-year-old actress stays in shape by watching what she eats. Although she doesn't follow any strict diets, she makes sure her meals consist of foods that are healthy. Most of the time, she avoids processed and junk foods. While she was more carefree when it came to food choices when she was younger, now the actress has decided to be more cautious. Not only does she want to maintain her slender figure, she also wants to feel good from the inside out.
Thus, her diet plan consists of lean proteins, whole grains, and lots of fruits and vegetables. In the morning, she likes having some eggs with fruits or a bowl of oatmeal. It's usually fish or chicken with some salad siding for lunch. She has the same thing for dinner, or she has some pasta when she's craving for it. When it comes to her indulgences, she practices moderation.