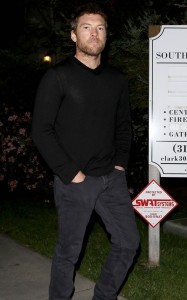 English-born Australian actor Sam Worthington began acting in Australia in the early 2000s but was able to make his Hollywood debut in 2002 with Hart's War. His acting breakthrough, however, was in the Australian film Somersault, which got recognized abroad due to its positive reception. He was also noticed for his great performance in the said film, which also brought his co-star Abbie Cornish to Hollywood stardom. Soon after playing the titular character in the Australian adaption of Macbeth, he received widespread recognition for his lead roles in the Hollywood films Terminator Salvation and Avatar, the latter of which was a massive international hit. He has since starred in Clash of the Titans, Wrath of the Titans, and Cake. He recently starred in the survival film Everest released in 2015.
The 39-year-old actor easily charmed international moviegoers for his strong masculinity onscreen, which makes him perfect for action-packed films. Standing at 5'10, Sam absolutely looks gorgeous with his athletic physique. Interestingly, Sam trained rigorously for his portrayal of Perseus in Clash of Titans and its sequel. Playing a warrior in the said films, the Aussie actor had to train 5-6 hours a day to achieve a chiseled-looking body fit for a warrior.
The actor's daily workout routine consists of 3 sets of crunches of 10-12 reps, 3 sets of lateral raises of 10-12 reps, 3 sets of squats of 10-12 reps, 3 sets of hammer curls of 10-12 reps, 3 sets of Russian dips of 10-12 reps, 3 sets of incline dumbbell bench press of 10-12 reps, 3 sets of hanging knee raises of 10-12 reps, 3 sets of triceps dips of 12-15 reps, and 3 sets of seated dumbbell rows of 12-15 reps. Aside from strictly following this routine, Sam makes sure he eats healthy to match his exercises. He takes sufficient rest between his workouts and works with a trainer for proper guidance. In addition, Sam knows when to stop, so he doesn't try so hard especially when he knows he's already hurting himself.