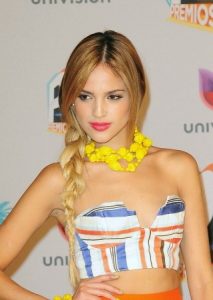 It was in 2007 that Mexican actress Eiza González started her acting career. She started strong with her debut in the telenovela Lola, érase una vez. She made her film debut Horton Hears a Who! for its Spanish dubbing. She went on to star in the Mexican shows Sueña Conmigo and Amores verdaderos. She made her debut on American television when she landed the role of Santanico Pandemonium in From Dusk till Dawn: The Series. Simultaneously, she had a role in the film Jem and the Holograms. Her biggest film so far was this year's Baby Driver. In 2018, she will star in the films Alita: Battle Angel and The Women of Marwen.
The Mexican beauty recently got mainstream attention for her role in Baby Driver. No doubt Eiza looks amazing in the film, but she's saying she got her incredible body in the movie by working hard. She's already slender but she has to work out harder to gain a bit more muscles. She needed to tone her body some more. Talking about her preparation for the role, she said: "I had to carry and shoot two machine guns. People don't realize how heavy they are. I couldn't look like a spaghetti noodle. I had to make it believable."
Even she's not preparing for a film, she hits the gym regularly to exercise. She even admitted she's obsessed to her fitness regimen. Her workout routine involves "weight lifting, Pilates, TRX, yoga, and a distinctive workout from Sandbox Fitness". The exercise from Sandbox that she's talking about involves performing a series of vigorous strength-training moves. These are done while trying to balance on an unsteady surfboard in an indoor beach. She said it's her secret to being ripped and she also does this daily in the morning.