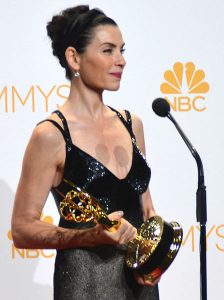 Award-winning actress Julianna Margulies is a television staple. This is all thanks to her critically acclaimed performances on well-known shows. Following minor stints on the small screen, she finally got her break as Carol Hathaway on ER. She won an Emmy Award for this. Afterwards, she starred on the miniseries The Mists of Avalon. During the 2000s, she starred in the films What's Cooking?, Ghost Ship, and Snakes on a Plane, among others. She also had lead roles on the short-lived programs The Grid and Canterbury's Law. Her role as Alicia Florrick on The Good Wife brought her further fame. Her work here also won her a Primetime Emmy for Best Actress twice.
51-year-old actress is one of the few in Hollywood who's able to maintain her amazing fitness. How else does she achieves this than by following a healthy lifestyle. This includes eating right and working out. Despite her hectic schedule, she manages to spend time for exercising. It also comes natural for her to eat healthy. In an interview, the actress shared how working out relaxes her, which of course motivates her further to keep moving. She said: "I actually get relaxed when I work out. I get into a zone when I sweat. My body feels fluid and relaxed."
She also works out actively because she believes sweating is a great way of detoxification. She said: "Sweating detoxifies your skin. I try to work out four times a week to get a good sweat going." When she's not busy working, the actress ups her workout to six times a week! She mostly engages herself with a combination of cardio exercises and lots of running. Plus, Julianna is a fan of Pilates, too. According to her, Pilates is one of her best fitness secrets, which keeps her body so toned.