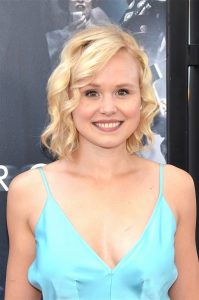 Canadian star Alison Pill had her career beginnings in the late 1990s. During her initial years, she appeared on some TV shows and films with small roles. Her roles became more significant in the 2000s with performances in Confessions of a Teenage Drama Queen and Dan in Real Life. She also portrayed Anne Kronenberg in Milk. On the small screen, her first starring role was as Grace Webster in Book of Daniel. She next starred as Kim Pine in the movie Scott Pilgrim vs. the World. In the 2010s, she portrayed Zelda Fitzgerald in Midnight in Paris. She also became known for starring as Maggie Jordan in the HBO series The Newsroom. This year, she played Ivy Mayfair-Richards in American Horror Story: Cult. She's also had roles in the movies Hail, Caesar! and Miss Sloane.
The 32-year-old actress stays in shape by following a healthy lifestyle. For one, she eats healthy most of the time. She practices moderation in her diet and she concentrates on having nutritious foods. She also maintains her fitness and health by staying active. One workout that she loves to do is Pilates. As a matter of fact, she's working with a Pilates trainer for several years now. In an interview, she gushed about how she likes the workout.
She said: "I have never before experienced such an improvement in the way my body works. I feel stronger, more aware of my alignment, and happy to have found a way to exercise that I really look forward to." This is also what helped her regain her slender physique after giving birth to her first child just last year. She also makes sure that she's active. She walks a lot and moves a lot. Even her work on film and television can be considered some form of workout for her since these keep her busy and active at the same time.