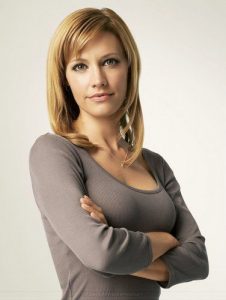 It was in 1999 that KaDee Strickland started her career as an actress. She did so by making her debut in the movie The Sixth Sense. Her first credited role was in Girl, Interrupted, also released that same year. In the early 2000s, she got active as a film actress, appearing in such features as Diamond Men, Something's Gotta Give, and The Stepford Wives. She later gained notice for her roles as Susan Williams in The Grudge and Sam Rogers in Anacondas: The Hunt for the Blood Orchid.
Subsequently, she starred in the movies Fever Pitch, Walker Payne, American Gangster, and The Family That Preys. She then became known on television courtesy of her role as Charlotte King in Private Practice. In the 2010s, she played Christy Crawford in Secrets and Lies and Linda Haverford in Shut Eye. Additionally, she played recurring character Special Agent Rose Nolan in The Player.
Film and TV star KaDee Strickland stays in shape by sticking to an active lifestyle. Despite her busy life, being a mother and an actress, she makes sure she has time to exercise. She does this not just to stay slim but to also maintain her overall health and fitness. Having a regular workout routine also helps her be in a great mood since working out is also good for one's mental health.
In an interview, she talked about the things that she does to maintain her fit and healthy figure. For one, the actress mixes her workout routine. She does not perform the same regimen over and over again. She also said that not being able to exercise makes her feel sluggish. She explained: "For me, if I don't do a little something every day, I can't function well. At the very least, I try to take a light walk. I'll do weights. I'll do Yoga. I'll hike. A dance class is something I'd love to do."