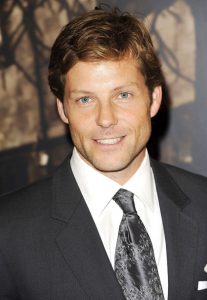 English actor Jamie Bamber had his career beginnings in the late 1990s. He made his debut in 5 episodes of the show Hornblower. In the start of the 2000s, his career flourished. First, he played 2nd Lt. Jack Foley in the HBO miniseries Band of Brothers. He next joined the main cast of the British series Peak Practice as Dr. Matt Kendal. His major break came after getting the role of Lee 'Apollo' Adama in the Hollywood series Battlestar Galactica.
He reprised his role in the TV movie Battlestar Galactica: Razor. From 2009 to 2011, he played Matt Devlin in Law & Order: UK. Following this, he starred in the films Filly Brown, Before I Sleep, John Doe: Vigilante, and Money. He also starred in the short-lived shows Monday Mornings and Monday Mornings, as well as played Jake Malloy in NCIS. More recently, he played Tim Williamson in Marcella and Matthew Wild in Fearless. His latest role on the small screen was as Eric Burton in Counterpart.
The English actor usually plays tough-man roles, which involves being in action-oriented scenes. Due to the nature of most of his characters on the screen, he makes sure that he's ready as far as his health and strength are concerned. In order to be fully prepared, not only does he work out, he also eats right. Hence, Jamie follows a healthy diet plan that contributes to his overall fit and healthy physique. In an interview with Men's Health, the actor got candid about his eating habits, revealing his typical daily diet.
He said: "My go-to foods are oatmeal in the morning. To make it palatable, I use loads of dried fruits, nuts, and dates. At lunch and dinner, I use non-fat cottage cheese instead of mayo or salad dressing — on a salad, some cottage cheese and balsamic vinegar. One of my favorites is to get avocado and stick in the cottage cheese and you get kind of a guacamole." He added: "Lean meats, tuna, and chicken are my staple protein sources. I eat a lot of yogurt as well."