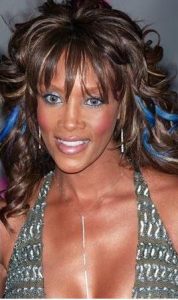 It was in 1988 that Vivica A. Fox started her career, playing a recurring role in the soap opera Days of Our Lives. The following year, she made her cinematic debut in the film Born on the Fourth of July. At the same time, she starred as Maya Reubens (her first regular TV role) in NBC's Generations. Later in the 1990s, she starred as Charisse Chamberlain in NBC's Out All Night and Stephanie Simmons in CBS' The Young and the Restless.
She also starred in the short-lived shows Arsenio and Getting Personal. In 1996, Fox starred as Jasmine Dubrow in the box-office hit movie Independence Day. She went on to star in the films Batman & Robin, Soul Food, and Why Do Fools Fall in Love, among others. In the 2000s, she was praised for her performances in the films Kingdom Come and Two Can Play That Game. She next portrayed Vernita Green / Jeanie Bell / Copperhead in Kill Bill: Volume 1, reprising her role in the sequel Kill Bill: Volume 2.
Back on TV, she also became known for her role as FBI Agent Nicole Scott in the Canadian series 1-800-Missing. Between 2007 and 2009, she starred as Loretta Black in HBO's Curb Your Enthusiasm. Later in 2012, she starred as Casandra Washington in the sitcom Mr. Box Office. Since 2015, she plays the recurring character of Candace Mason in Fox's Empire. She also continued her film career during this period with her recent role in the 2019 film Crossbreed.
Apart from her vigorous workout routine, Vivica A. Fox maintains her healthy figure by eating well. It's also important for her to never skip meals. "I make sure to have three meals a day with snacks in between," said the actress. To avoid eating unhealthy foods, the actress plans her meals ahead of time. Breakfast for her is mostly oatmeal with blueberries, then apples and unsalted almonds for her mid-morning snacks. Lunch and dinner are usually some proteins like fish or turkey with a salad and brown rice.