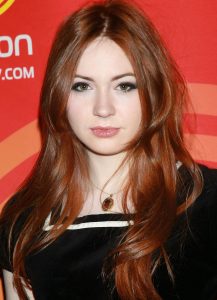 Hollywood star Karen Gillan got her start when she made her television debut in an episode of Rebus. Her next role was in the made-for-television movie Stacked. Her first regular role was in the sketch comedy show The Kevin Bishop Show. She later played the role of Coll in the series The Well. From 2010 to 2013, she gained mainstream fame when she played Amy Pond in the popular British series Doctor Who. She next portrayed Jean Shrimpton in the TV movie We'll Take Manhattan.
Meanwhile, as a film actress, she made her debut in the 2010 movie Outcast. She next appeared in the films Not Another Happy Ending and Oculus. She achieved wider success when she played Nebula in the movie Guardians of the Galaxy, which she reprised in Guardians of the Galaxy Vol. 2. She also played the role in the box-office hit Avengers: Infinity War. She also starred as Ruby Roundhouse in the Hollywood film Jumanji: Welcome to the Jungle. Also, she starred as Eliza Dooley in the short-lived series Selfie, which aired on ABC for one season.
Her latest roles on the big screen have paved the way for the actress to up her fitness to improve her physique. At the same time, she also has to make sure she follows the right diet. For her role in the latest Jumanji movie, she needed to gain muscles so she had to increase her calorie consumption. She knew that her primary goal was to pack some muscles and not to lose weight. Playing a female character who's a kick-ass fighter, she needed to look the part and being thin doesn't cover it. "It was never about losing weight, it was about gaining muscle and becoming stronger, which I think was really cool actually. I felt good," she said while talking about how she upped her calorie intake.