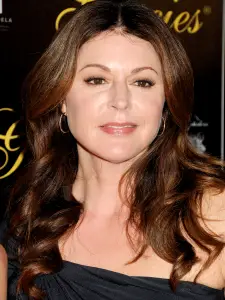 English actress Jane Leeves got her start in the 1980s. She first became known for her role as Prudence Anne "Blue" Bartlett in the American sitcom Throb. Her first credited movie role was in 1985's To Live and Die in L.A. In the '90s, she first appeared as Marla Penny in Seinfeld prior to making her big break as Daphne Moon in the NBC sitcom Frasier. The show aired on television for 11 seasons from 1993 to 2004, gaining her mainstream recognition.
Simultaneously, she also starred in the films Miracle on 34th Street, Don't Go Breaking My Heart, Music of the Heart, and The Event. She also played Athena in Hercules: The Animated Series. After Frasier ended, she starred in the short-lived series Misconceptions. In the 2010s, she is best known for her role as Joy Scroggs in the sitcom Hot in Cleveland. Meanwhile, her recent work in the movies was in 2009's Endless Bummer. She recently guest-starred in an episode of The Great Indoors.
The actress nears her 60s but it's obviously doesn't seem to be the case looking at her. So, what's her secret to looking young and staying fit? For one, the television star sticks to a clean diet plan. She generally avoids processed and junk foods and focuses on eating nutritious ones. She also eats a balanced and a well-rounded diet, which helps her maintain her healthy weight.
In fact, she also instills her healthy dieting habits to her family. "We don't buy packaged foods in our house," she said. As a mom, she tries to balance the food choices in her household mainly because she has a daughter who's a vegetarian and her son, on the other hand, only eats meat. Nevertheless, she loves to cook despite her crazy schedule. "I make a lot of quinoa dishes, and I'm lucky my kids eat vegetables," she quipped.