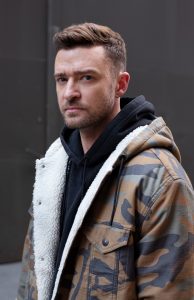 During his younger years, Justin Timberlake made appearances on such shows as Star Search and The All-New Mickey Mouse Club. He got his break in the 1990s as a member of the boy band NSYNC. Together, they released three studio albums. Afterward, he pursued a solo career in music, releasing his first solo album Justified in 2002. For the singles "Cry Me a River" and "Rock Your Body", he won two Grammys. His next album came four years later with FutureSex/LoveSounds. It spawned the hit songs "SexyBack", "My Love", and "What Goes Around… Comes Around".
At the same time, he also ventured into acting. He debuted in the 2000 TV film Model Behavior. He next made his first film role in 2005's Edison, followed by a role in the crime drama film Alpha Dog. He later had performances in Black Snake Moan, Southland Tales, The Love Guru, and The Open Road. In 2010, he portrayed Sean Parker in The Social Network. He later had co-starring roles in the movies Bad Teacher and Friends with Benefits. He next played the lead in the film In Time. Continuing his acting career, he starred in the movies Inside Llewyn Davis, Runner Runner, and Wonder Wheel. Also in 2018, he released his fifth album Man of the Woods.
The actor/singer reveals he's a huge foodie. In fact, the reason he works out regularly is so that he can eat whatever he wants. "I mostly workout so I can eat religiously. I'm such a foodie. The only way I can make myself feel better about what I eat is to work out," shared Timberlake.
Nonetheless, he makes sure that most of his meals consist of healthy foods. The star also revealed in an interview that he has two breakfasts every morning. "I train in the mornings and I'll eat two breakfasts. I'll have waffles with flax seed and almond butter and one egg scrambled. Then I'll work out and have a second breakfast–another egg or a protein shake," said the actor and singer. More importantly, he avoids eating processed foods.