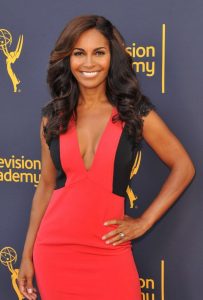 American actress Salli Richardson debuted in the 1991 film Up Against the Wall. She next made minor appearances in such films as Prelude to a Kiss and Mo' Money. During this period, she also guest-starred in a couple of TV shows. In the next few years, Richardson landed roles in the movies Posse, Sioux City, Once Upon a Time…When We Were Colored, Soul of the Game, The Great White Hype, and Butter.
Her first starring role on TV was as the voice of Elisa Maza in the animated series Gargoyles. Later, she played the role of Lt. Kim Salisaw in the TV show Mercy Point. In the 2000s, she became known for her roles as Nancy Adams in the Rude Awakening and Viveca Foster in Family Law. Next, she played recurring character Laura in CSI: Miami. From 2006 to 2012, she became widely known for starring as Allison Blake in the Syfy series Eureka.
Also in the 2000s, she had performances in the films Anacondas: The Hunt for the Blood Orchid, I Am Legend, Black Dynamite, and Pastor Brown. After Eureka, she played Jane Barrow in The Newsroom, as well as played Valerie in Being Mary Jane. She then joined the main cast of the show Stitchers as Maggie. Her most recent roles in the movies were in 2015's Playin' for Love and The Sin Seer. Richardson has since ventured into directing recently.
Turning 51 this year, Richardson feels great than ever. Thanks to her clean diet plan and active lifestyle, her energy levels are high and that shows in her radiance and confidence. Despite motherhood and her entertainment career, she's able to work out on a regular basis. It's an important part of her lifestyle, not only to help her stay in shape but to also alleviate stress. Her workout routine includes cardio, yoga, and Pilates, switching things up according to her schedule and needs.