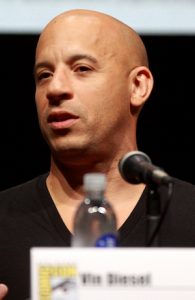 Vin Diesel had his career beginnings in the 1990s. He debuted with a small role in the film Awakenings. Later in 1995, he starred in the short film Multi-Facial, which he also wrote, directed, and produced. He made his directorial debut in the 1997 film Strays, which he also starred in. His first role in a major production was in Steven Spielberg's Saving Private Ryan, playing the role of Private Adrian Caparzo.
After this, he played the lead star – Richard B. Riddick – in the 2000 film Pitch Black. The rest of the decade saw him headlining several movies. Most notably, he played Dominic Toretto in The Fast and the Furious, which he has since reprised in many more Fast and Furious sequels. He also reprised his role as Richard B. Riddick in The Chronicles of Riddick and The Chronicles of Riddick: Dark Fury.
He went on to star in the films The Pacifier, Find Me Guilty, and Babylon A.D. In the 2010s, he played Groot's voice in Guardians of the Galaxy, Guardians of the Galaxy Vol. 2, Avengers: Infinity War, and Avengers: Endgame. He also starred in the 2015 film The Last Witch Hunter. This year, he played the lead in the superhero film Bloodshot.
When it comes to workout advice, trust Vin Diesel to know what he's talking about. One thing he can say about his training is how it's changed throughout the years. Now in his 50s, fitness isn't all about gaining muscles. "When I was younger, I was trying to gain as much weight as possible. Now, I focus on each body part to define it," said the actor.
As for his workout routine, it's all about shocking the muscles. "Now, I focus on each body part to define it," explained Diesel. As expected, finding the time to train comes hard for the actor but he doesn't sweat it. "I work out less and enjoy it more these days. It's a time in my week where I don't have to juggle things. I can just exercise and be present," he said.