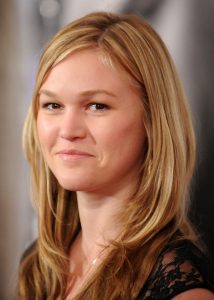 Hollywood actress Julia Stiles had her career beginnings in the early 1990s. Her television debut was in Ghostwriter. She later began a film career with her first gig in 1996's I Love You, I Love You Not. She next appeared in the films The Devil's Own, Wicked, and Wide Awake. Her breakthrough role was as Kat Stratford in the teen film 10 Things I Hate About You. For her role here, she won an MTV Movie Award for Best Breakthrough Performance – Female.
In the 2000s, she starred in the movies Hamlet, State and Main, Save the Last Dance, Mona Lisa Smile, and The Prince and Me. She also became known for playing Nicky Parsons in The Bourne Identity and its sequels. In 2010, she guest-starred in 10 episodes of Lumen Pierce, earning her a Primetime Emmy nomination. In the 2010s, she had notable roles in Silver Linings Playbook, Jason Bourne, and The Drowning. She also currently stars on the Irish television show Riviera as its lead.
The 36-year-old actress stays in shape by following a healthy lifestyle. For one, she eats healthy foods most of the time. She generally avoids processed and junk foods. In an interview, when asked what would be her ideal food day is, she answered: "Fresh organic green juice in the morning, then a salad with avocado and quinoa for lunch. Dinner would be Sushi or something homemade, with a delicious glass of wine." From this, we can tell that the actress is really conscious of the foods she consumes.
When it comes to practicing beauty inside out, she believes in the simplicity of homemade meals made from clean and natural ingredients. She said: "I really believe that food made with love and from good, simple ingredients is the way to go. I love cooking with friends, and the social experience of eating together. The more mindfully you eat, the more nourishing and satisfying it can be."