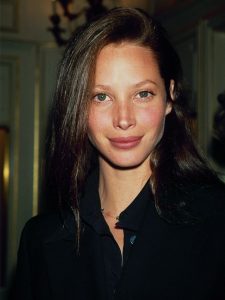 American model Christy Turlington started her career during her late teens. She later relocated to New York to pursue modeling full-time. In 1989, she was featured in Calvin Klein's Eternity campaign. The following decade, the celebrity continued her prolific modeling career. With her success, she appeared in the documentary Unzipped. This was followed by the fashion mockumentary film Prêt-à-Porter in 1994.
Later, Turlington was featured in the documentary Catwalk. As a prominent face in the fashion world, she's appeared on international magazines with the likes of Vogue, Harper's Bazaar, Elle, Marie Claire, Tatler, Glamour, Cosmopolitan, and Allure. Throughout her career, she has been featured in several ad campaigns — most notably for such brands as Calvin Klein, Chanel, Yves Saint Laurent, Marc Jacobs, Prada, Valentino, Versace, Louis Vuitton, Bally, Michael Kors, and Maybelline.
During this period, she appeared in George Michael's music video of the song Freedom!. Turlington went on to venture into filmmaking, making her directorial debut in the 2010 documentary film No Woman, No Cry. In addition, she worked with Calvin Klein again in 2014. Turlington currently models for the cosmetics brand Maybelline.
The 50-year-old model is able to stay in shape thanks to her active lifestyle. One of her go-to workouts is yoga, which she said she's been doing since 1987. According to her, she performs yoga three times per week every morning. Yoga has since helped her reach mental clarity, as well as help her reduce stress. In addition, Turlington is very fond of running. Ultimately, her charitable works also led her to long-distance running.
"I started running long distance because of Every Mother Counts," said the model. "So when I go out and run to train or race, that's top of my mind. Running, even if you're a professional, is difficult because there are so many factors – like the weather, how you slept, what you ate, how your body's doing," she continued