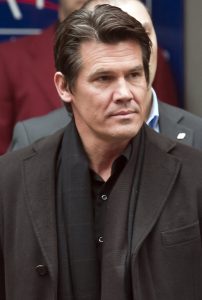 Josh Brolin's career in Hollywood spans decades. His first ever role was as Brand Walsh in Richard Donner's The Goonies in 1985. After this, he landed a main role as Johnny Betz in the crime drama Private Eye, which aired on NBC. The actor gained wider recognition for starring as James Butler Hickok in the ABC series The Young Riders, which aired on the network from 1989 to 1992. After this, he played recurring character Jack Passion in the TV drama Winnetka Road.
The rest of the 1990s got him performing in such movies as Flirting with Disaster, Mimic, and Best Laid Plans. Later in 2000, he starred in Paul Verhoeven's Hollow Man, as well as worked with Woody Allen in Melinda and Melinda. He next starred in Robert Rodriguez's Grindhouse, played Llewelyn Moss in Coen Brothers' No Country for Old Men, and starred in Ridley Scott's American Gangster. He went on to play George W. Bush in Oliver Stone's W. and Dan White in Gus Van Sant's Milk.
In 2010, Brolin played the lead role in the film Jonah Hex. He collaborated with Woody Allen again in You Will Meet a Tall Dark Stranger and Oliver Stone in Wall Street: Money Never Sleeps. His Hollywood career proved solid in the 2010s, starring in such films as True Grit, Men in Black 3, Gangster Squad, and Inherent Vice. He also played Dwight McCarthy in Sin City: A Dame to Kill For. Brolin is currently known for his role as Thanos in the Marvel Cinematic Universe films. In addition, he starred as Cable in Deadpool 2.
Brolin has been recently enjoying success in his latest cinematic roles. But in order to star in superhero and action-oriented films, he had to increase his physical training. Apart from the workout routine that he needed, he also watched his diet more cautiously. "Totally clean: no sugar, no breads, no pastas, no drugs, none of it. Fish, rice, eggs, veggies, water, one [bullet proof coffee] in the morning. It's a different time: our access along with some big picture discipline results in always surprising milestones," said Brolin.