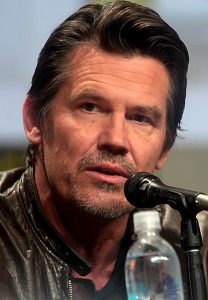 Hollywood actor Josh Brolin first starred as Brandon "Brand" Walsh in the 1985 film The Goonies. He next starred in 1986's Thrashin'. After this, he starred as Johnny Betz in the NBC series Private Eye. From 1989 to 1992, he became known for his role as James Butler Hickok in the western series The Young Riders. During the '90s, Brolin achieved success with roles in the films Flirting with Disaster and Mimic.
He maintained this success in the 2000s, starring in such movies as Hollow Man, Into the Blue, Grindhouse, No Country for Old Men, and No Country for Old Men. He also portrayed George W. Bush in W. and Dan White in Milk. In the 2010s, he played the titular character in Jonah Hex, as well as starred in the films You Will Meet a Tall Dark Stranger and Wall Street: Money Never Sleeps. Later in 2012, he played the Young Agent K in Men in Black 3.
He next starred as Dwight McCarthy in Sin City: A Dame to Kill For and Lt. Det. Christian "Bigfoot" Bjornsen in Inherent Vice. More recently, he became largely known for his role as Thanos in Guardians of the Galaxy, Avengers: Age of Ultron, Avengers: Infinity War, and Avengers: Endgame. Other films include Sicario, Everest, Hail, Caesar!, and Only the Brave. Brolin also played Cable in Deadpool 2 and reprised his role as Matt in Sicario: Day of the Soldado. He will star as Gurney Halleck in the upcoming 2020 film Dune.
Josh Brolin's latest cinematic roles require him to intensify his training. From playing Cable in Deadpool 2 and Thanos in the Avengers films, it's obvious how he needs to not only improve his physique but also develop his strength. But keeping up with a rigorous workout routine isn't always easy. "Working more and less time to keep in the kind of shape I want to," said the actor. But thanks to his commitment to his fitness routine, he's able to make it work.
"When you do it cleanly results are harder to earn but and you can lose them fast. But even if you can't put in a 2 hour workout of abs, cardio, weights and boxing, it's always nice to remind your body what kind of shape you want to stay in. 30 minutes today of random exercises: thrusters, push ups, lunges, burpees, straight bar rows, deadlift. Not too heavy but I feel it," shared the actor.