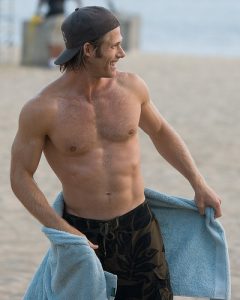 In 2000, Hollywood actor Chris Carmack debuted in an episode of Strangers with Candy. He next appeared as himself in the TV show Player$. Shortly after, he landed his first starring role on television, playing Luke Ward in The O.C. After this, he made his film debut in 2004's Bring It On Again, after which he co-starred in the romantic comedy film Love Wrecked.
He next had performances in the films Just My Luck, Suburban Girl, H20 Extreme, The Butterfly Effect 3: Revelations, and Into the Blue 2: The Reef. At the same time, he starred in the TV film The Last Ride and the miniseries Beach Girls, as well as played recurring role Alex Brody in Related. Carmack then made one-time roles in CSI: Miami, Desperate Housewives, CSI: NY, NCIS, and Drop Dead Diva.
Continuing his work in the 2010s, the actor had performances in some films, which include Alpha and Omega, Shark Night, Dark Power, Alpha and Omega 2: A Howl-iday Adventure, and The Dust Storm. At the beginning of the 2010s he also starred in several television films. Between 2013 and 2018, Carmack gained wider recognition for his role as Will Lexington in Nashville. After this, he landed the role of Atticus "Link" Lincoln in Grey's Anatomy, which he currently stars in.
Chris Carmack maintains his body impressively and keeps it in top shape courtesy of his love of the outdoors. As part of his lifestyle, he engages in sports and other activities that gets him highly active. He also works out at the gym, combining cardio and resistance training. But if there's one fitness regimen that the actor swears by, it's yoga. He credits this meditative exercise to giving him the right posture and giving him remarkable proportions that make his body noticeable.