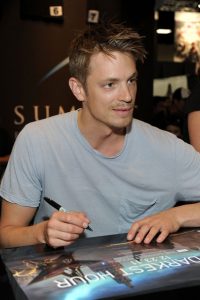 Hollywood actor Joel Kinnaman started his career in his native Sweden. He made his debut as a child on the TV series Storstad in 1990. More than a decade later, he made his film debut in the Swedish feature Den osynlige. The rest of the 2000s saw him perform in the Swedish movies Hannah med H, Storm, and Tjenare kungen. He later became more famous there for starring as Sverker Karlsson in the epic film Arn – The Knight Templar and its sequel Arn – The Kingdom at Road's End. He next starred in the movie In Your Veins.
In the 2010s, he pursued a career in Hollywood, first landing the starring role of Stephen Holder on the AMC series The Killing. He played the said role from 2011 to 2014. This earned him mainstream prominence in the US. He later played Alex Murphy / RoboCop in the 2014 American film RoboCop. He later starred in the movies Knight of Cups, Run All Night, and Child 44. He next portrayed Rick Flag in Suicide Squad. From 2016 to 2017, he also played Governor Will Conway on Netflix's House of Cards. In 2018, he played the lead Takeshi Kovacs on the Netflix series Altered Carbon. He will star in the upcoming British movie Three Seconds.
For his lead part on Altered Carbon, the Swedish actor upped his physical training to improve his physique and overall strength. This means a more vigorous workout routine that needed to be executed in order to achieve ideal results. According to the actor, he trained 3-5 hours per day for approximately six months as a means of preparation for his role as Takeshi Kovacs. Talking about it, he said: "I wanted to be prepared in a way where I could do my own stunts. It was the first time that I really stepped up to that level." Kinnaman revealed that he performed various martial arts as well as strength and conditioning.