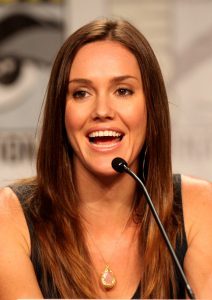 Erinn Hayes
$7 million
Hollywood star Erinn Hayes had her career beginnings in 2001. Her first movie role was in Final Stab where she played the role of Kristin. That same year, she had her first television appearance in an episode of Providence. Shortly after, she joined the main cast of the short-lived series On the Spot as Brenda. She later had recurring roles as Mindy Wheeler in Everwood and Becky in Kitchen Confidential. She also played a small role in the film Rumor Has It…
Afterward, Hayes played Alison McKellar in the Fox sitcom The Winner. Her first notable work on television was as Lola Spratt in the black comedy show Childrens Hospital. She starred on the said show from 2008 to 2016. At the same time, she played Melanie Clayton in the CBS sitcom Worst Week. In the 2010s, she played Racquel in Parenthood, as well as starred as Sheila in the NBC sitcom Guys with Kids. She also had remarkable guest appearances in How to Be a Gentleman and Parks and Recreation.
In 2015, the actress played the part of Callie Silversan in the Hulu sitcom The Hotwives of Las Vegas. She became further known for her role as Donna Gable in the first season of Kevin Can Wait. She subsequently starred as Beth McKenna in the Amazon series The Dangerous Book for Boys. Also in the 2010s, Hayes had performances in the films It's a Disaster, The Watch, They Came Together, and Band Aid. She'll appear in the upcoming movie Bill & Ted Face the Music. She recently starred as Vivian in the Netflix show Huge in France.
Erinn Hayes stays in shape by watching what she eats. Already in her 40s, she has since cut down on sugar and salt. That's why it's rare for the actress to eat processed or junk foods. Instead, she focuses on having clean, whole foods. Her diet plan typically consists of whole grains cereal, oatmal with fruits, chicken, fish, fruits, and lots of salads. In between meals, she snacks on smoothies, fruits, yogurt, and nuts to satiate her hunger pangs.