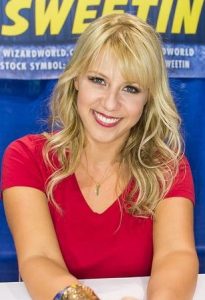 Hollywood star Jodie Sweetin got her start as a young actress, gaining fame for her role as Stephanie Tanner on the ABC series Full House. The show ran from 1987 to 1995. While on the show, she also made guest appearances in the shows The Hogan Family and The All-New Mickey Mouse Club. After Full House, she guest-starred in Brotherly Love and Party of Five. In the 2000s, she appeared in an episode of Yes, Dear and hosted the show Pants-Off Dance-Off.
In 2009, she made her big-screen debut in the movie Redefining Love. In the 2010s, she first appeared in the made-for-television films Singled Out and Defending Santa. In 2015, she portrayed Charlotte Disney in the movie Walt Before Mickey. The following year, she reprised her role as Stephanie Tanner in the Netflix sequel series Fuller House. She also currently stars as herself in the comedy show Hollywood Darlings. In addition, she has also starred in the TV movies Finding Santa and My Perfect Romance.
The actress has struggled with substance abuse after Full House wrapped up. In her latest interviews, she revealed that working out as part of her lifestyle has since helped her to overcome her addiction. Not only does exercise help her to be healthy, it also helps her to feel relaxed. So, what's the actress workout routine? According to reports, the Fuller House actress exercises thrice a week with the help of a trainer. She also performs Pilates on a regular basis.
While traveling makes it hard for her to work out, she tries to make it up by simply being active such as by walking or doing other errands. It is said that Jodie's workout regimen involves "swimming, lower back exercises, standing calf raises, pectorals, lunges, and planks." She's able to maintain a healthy weight and a slender figure as well thanks to her discipline.