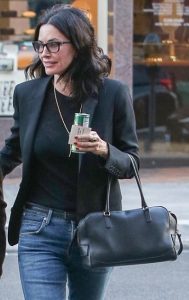 It was in 1984 that Courteney Cox got her start in Tinseltown with her debut in the soap opera As the World Turns. Soon, she landed her first starring role on television as Gloria in Misfits of Science. After this ended, she played Lauren Miller in the show Family Ties. During this period, she also starred in the film Masters of the Universe. After more roles on film and television, she finally achieved stardom after landing the role of Monica Geller in the sitcom Friends.
The show ran from 1994 to 2004 for 10 seasons. While on the show, she also became active in the movies. She simultaneously starred in such films as Ace Ventura: Pet Detective, Scream, Scream 2, Scream 3, and November. After Friends, she starred in the film The Longest Yard and starred as Lucille "Lucy" Spiller in the series Dirt. More recently, she starred as Jules Cobb in the show Cougar Town. She also reprised her role in Scream 4 and starred in the drama film Mothers and Daughters.
Hollywood star Courteney Cox remains vibrant, fit, and youthful thanks to her active lifestyle. No matter how her schedule gets, she makes it a point to spend time exercising. She also has a trainer to help her perform her workout routine. In an interview, she talked about how physical activity for fitness and health is crucial for her. It is also important for her that she enjoys the whole process of her fitness regimen. She was noted for saying:
"My fitness philosophy is to be active in life and enjoy what I am doing. I have always loved exercise and feel that being active is important to maintain not only physical health, but mental health as well." One of the workouts that she likes is the Tracy Anderson Method. "In my hour-and-a-half workout sessions, I have had a mental challenge and a physical challenge," she said. She also likes performing Power Plate. On the weekends, the actress prefers to play sports, specifically tennis.