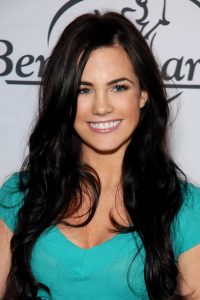 Hollywood star Jillian Murray got her beginnings in the mid-2000s. Her first credited role was in the 2005 movie Fifty Pills. She next made her television debut in an episode of Drake & Josh. She next starred on the made-for-television film Cheerleader Camp. She went on to star in the low-budget films One Night With You, The Fun Park, as well as in the straight-to-video movies Pretty Little Devils and American High School. She also appeared as Heather in the film An American Carol. Her next performances were in the horror films Forget Me Not and The Graves.
In the 2010s, she continued her film career with roles in Wild Things: Foursome, Never Back Down 2: The Beatdown, Bad Ass, Cabin Fever: Patient Zero, and Mantervention. She later had roles in the features The Squeeze, Windsor Drive, and Dark Ascension. On television, she played Portlyn on the Disney sitcom Sonny with a Chance. She next played Suzy Q on Murder in the First. She became further known for starring as Dr. Heather Pinkney on the CBS medical drama series Code Black. This year, she starred on the TV film A Dangerous Date.
The 34-year-old actress stays in shape by choosing healthy foods. She tries her best to consume whole foods most of the time. Generally, she avoids eating anything junk such as processed foods. These mostly are sugary and oily foods. While she admits to being less cautious when she was younger, now is a different story. She observes proper diet not only for staying slim but for feeling energized as well. She mostly sticks to lean proteins and whole grains. She also incorporates fruits and veggies into her meals on a daily basis. To help moderate her hunger pangs, she has fruit shakes for snacks. While she allows herself for some guilty pleasure foods every now and then, like pizza and fries, she always does so in small portions.