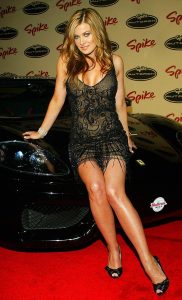 It was in 1996 that celebrity Carmen Electra started acting. She made her debut in the show Erotic Confessions. She later gained recognition for starring as Lani McKenzie in Baywatch. She next played Sarah Hicks in the series Hyperion Bay. During the '90s, she also had roles in a few films. She became further known for her performances in the early 2000s.
This includes the films Scary Movie, Sol Goode, Perfume, My Boss's Daughter, and Starsky & Hutch. She later had roles in the movies Cheaper by the Dozen 2, Date Movie, Scary Movie 4, and Epic Movie. During this period, she also appeared in reality television. She then became the host of the program Manhunt: The Search for America's Most Gorgeous Male Model. In 2008, she began hosting the show ChartBlast for MTV Italy. Her recent appearance was as herself in an episode of Jane the Virgin.
Carmen Electra stays in shape by making sure that she follows an active lifestyle. In an interview, she got candid about the things that she does for her health and fitness. She said: "I don't go to the gym every day. Usually when I'm on break, I've already danced a lot so I'm okay for a while. Sometimes I work out at my house. I'll do some lunges, something simple like that. Otherwise, I'll go to the gym."
She added: "I've only had one trainer in my life, and I realized that because of my dance background, I already have discipline and I don't need to be pushed. I think I've saved a lot of money too. As a dancer, I've never put strict rules on my workout habits and sometimes I just want to go to the gym and do something light." For her, wellness is a lifestyle. While she admits to not being perfect when it comes to her lifestyle choices, she does try her best.