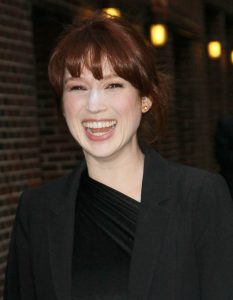 Thanks to her role as Erin Hannon on The Office, Ellie Kemper was able to establish herself on TV. Prior to the office, she had roles on not-really-known TV shows. While still on the show, she was able to appear in some movies. These are Get Him to the Greek, Somewhere, and Bridesmaids. She then became more noticed for her supporting role in 21 Jump Street. She went on to have a recurring role on The Mindy Project. In 2014, she starred in the independent films Laggies and They Came Together. 2015 was an incredible year for her. This was the year that she began playing the title role on the comedy series Unbreakable Kimmy Schmidt. This even got her an Emmy nomination for Outstanding Lead Actress in a Comedy Series.
The comedic actress is into working out. She treats this so seriously that she feels bad when she misses a session of her routines. In an interview, Ellie said that working out takes her to a happy place. "If I don't do some sort of exercise in a day, I do get in a terrible mood," she said. She also admitted that when she was younger, she would only work out to look good. But now that she's in her late 30s, she works out to feel good. When one ages, exercising becomes more crucial and becomes less about physical appearance.
She also stated: "I want to have a lifetime of good health, so it's about keeping the whole thing in balance." One thing she's crazy about is SoulCycle. According to her, SoulCycle is a very good workout for her and is very motivating. Though she also admits it also depends on the instructor. Overall, SoulCycle is her best cardio. She also revealed that movements or physical activities help her relax. On the other hand, the actress does not push herself too much. She knows her limits and she doesn't go to extremes. According to her, she's not a masochist.