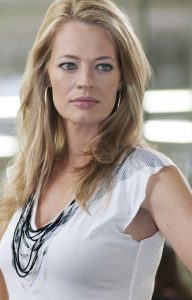 Actress Jeri Ryan started her Hollywood career in the early '90s. She first appeared in the made-for-television film Nightmare in Columbia County. During her early years, she landed one-episode roles on various TV shows. Some of these were on Who's the Boss?, The Flash, Top of the Heap, and Reasonable Doubts. She later played Carrie Locke on the TV series Matlock: The Fatal Seduction. She frequented TV movies as well, appearing on Flash III: Deadly Nightshade and Pier 66, to name a few.
Her first notable role was as Juliet Stewart on the TV show Dark Skies. However, it was her role as Seven of Nine on the sci-fi series Star Trek: Voyager that got her mainstream prominence. For her performance, she won Saturn Awards. Afterward, she joined the main cast of the show Boston Public as Ronnie Cooke. She also had recurring roles on Two and a Half Men, The O.C., and Boston Legal. After Boston Public, she got the starring role of Jessica Devlin on the CBS series Shark, which aired from 2006 to 2008.
She went on to play Patrice Larue on Law & Order: Special Victims Unit, Tara on Leverage, and Major Amanda Lattimer on Warehouse 13. In the 2010s, she became known for her role as Kate Murphy on Body of Proof. Her most recent role on TV was as Veronica Allen on the Amazon series Bosch. As a film actress, she's had performances in The Last Man, Dracula 2000, and Down with Love.
To maintain her slender figure, the actress eats a balanced diet. She chooses her meals well, avoiding processed foods most of the time. For breakfast, she loves a boiled egg or whole grains oatmeal with blueberries. Lunch for her is usually some chicken or fish with salad on the side. She has the same thing for dinner — a combination of proteins and veggies. As for her diet secrets, she doesn't have any. She just drinks plenty of water to keep her skin looking rejuvenated. She also indulges in her cravings every now and then as she doesn't believe in strict dieting.