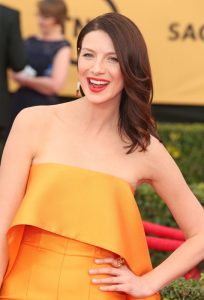 The Irish beauty, Caitriona Balfe, is now a television star courtesy of her role on the TV series Outlander. Starting her career with an uncredited role in the movie The Devil Wears Prada, she appeared in a few short films and even produced her own documentary. She then appeared in the feature films Super 8, Lost Angeles, Now You See Me and Escape Plan. Her breakthrough was on Outlander where she plays the female lead Claire. For her performance on the show, she has been nominated for the Best Actress Award at the Golden Globes twice. She has also recently starred in the movie Money Monster.
The actress, despite being in her late 30s, appears super slim and toned. Her role on her show Outlander also motivates her to work harder in terms of eating well and working out. Naturally, the actress is already careful when it comes to her lifestyle. Plus, it also helps that she's thin ever since. Her role on Outlander also enables her to be more active. She said: "We did quite a lot of boot camp for horse riding, which was really fun. I had ridden horses sort of when I was kid. I'd never really taken proper lessons but our neighbor used to have a horse."
In the interview, the actress also revealed that she has always been slim. So, lucky her for her awesome genes. Despite this, Caitriona does not get complacent. She still observes an active lifestyle in order to maintain her healthy body. Her workout routine varies each time, since she prefers mixing things up. But she makes sure her regimen includes running, yoga and Pilates. She even joins in boot camps when she deems important and is also fond of hiking and surfing. Hence, the actress really keeps herself physically engaged most of the time.