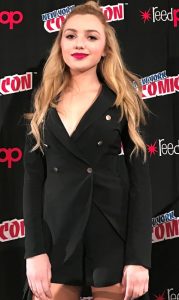 It was in 2002 that Hollywood star Peyton List started her professional acting career. She made her debut with a minor role in As the World Turns in 2002. Her first movie was in 2004's Spider-Man 2. On the small screen, she played her first recurring role in Cashmere Mafia. She then played the young Jane Nichols (Katherine Heigl's character) in the romantic comedy 27 Dresses.
Her first starring role on television was as Emma Ross in the Disney series Jessie. Simultaneously, she had roles in the films Diary of a Wimpy Kid: Rodrick Rules, Something Borrowed, The Trouble with Cali, and Diary of a Wimpy Kid: Dog Days. She also appeared on the TV program Pass the Plate as a co-host. She reprised her role as Emma Ross in the Jessie spin-off Bunk'd. She's also starred in the Disney TV movie The Swap.
The 19-year-old actress, despite her young age, strives to stay in shape by following a healthy lifestyle. She said that sticking to what's healthy is something that she learned from her family. She doesn't need to get older to understand the importance of a clean diet as she sees in her mother the health benefits of a clean lifestyle. She's also an avid fan of working out. She does so not only to maintain her healthy weight but to also feel strong and happy. Exercising releases brain chemicals that help improve one's mood.
She explained: "I try to work out like 4 times a week. I'm not a happy person if I don't work out. It releases endorphins and makes me so much happier. If I'm not working out, I get depressed. It's funny because I'm always on the go and always running around." She also shared her healthy morning habits, which also involves some physical movements as a form of exercising. She said: "When I wake up in the morning, I stretch and have lots of water, wash my face, and put on a moisturizer with SPF in it."