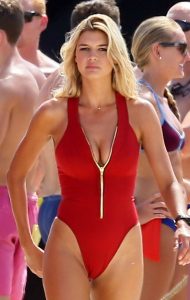 Hollywood celebrity Kelly Rohrbach had her career beginnings in the 2010s. During her initial years as an actress, she acted in the movie Wilt, which was her debut. She next guest-starred in the television shows The New Normal and Two and a Half Men. She next appeared as Officer Charlotte "Charlie" Hansen in two episodes of Rizzoli & Isles. Her first main role on the small screen was in The PET Squad Files. She went on to make guest appearances on the TV shows Rush, Deadbeat, Broad City, and Angie Tribeca. She became known to the mainstream audience after landing the role of C. J. Parker in the 2017 movie Baywatch. She has an upcoming movie A Rainy Day in New York to be released in 2018.
The 27-year-old model and actress admitted that she didn't diet for her role in Baywatch because she needed a lot of protein due to her intense training. In an interview, she said: "We all cheated because we had trainers. We had trainers while we were filming and trainers before we were filming, which was great, because you don't have to think – you just do as you're told." She went on to say: "I did a lot of running. I ran the beach in LA four or five times a week – sprint sets and stuff."
She continued: "I like to box so I did a lot of that with my trainer. Then I did weights. I would start working out so early in the morning I'd be half asleep. By the time I got back into my car, I didn't remember what we just did.
'You sort of want to black it out, working that hard." Her intense training obviously paid off as it was apparent how she rocked the lifeguard look in the said movie, which gained her a whole new level of attention from fans.