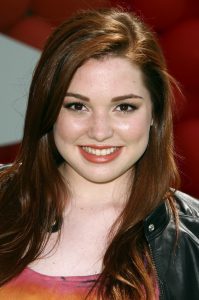 Hollywood actress Jennifer Stone started her professional acting career with the 2003 film Secondhand Lions. She next had her first television role in an episode of Line of Fire. This was followed by one-time roles in House and Without a Trace. She got her big break on television after landing the role of Harper Finkle in the Disney sitcom Wizards of Waverly Place. The show ran for four seasons on Disney, earning her mainstream recognition among young audiences.
While on the show, she had roles in the films Fresh Studio and That's What I Am. She went on to star in the TV movies Dadnapped, Harriet the Spy: Blog Wars, and Mean Girls 2. She also reprised her role as Harper in the TV movie Wizards of Waverly Place: The Movie. As a voice actress, Stone played Beverly Holiday in Generator Rex. After Wizards of Waverly Place, she had performances in the films Nothing Left to Fear and Grave Secrets.
She then starred in the short-lived series Deadtime Stories. She played Harper again in the TV movie sequel The Wizards Return: Alex vs. Alex. In 2014, she starred in the film High School Possession. Her latest TV role was in an episode of Nasty Habits in 2017. In addition, she will star in the upcoming films Santa Girl and The Perfect Night.
Stone took a break from acting after the successful run of Wizards of Waverly Place to get her college degree. This was also around the same period where she was diagnosed with Type 1 diabetes, causing her to notably gain weight. Due to this, she slowly changed her lifestyle, particularly her diet, to manage her condition well. One of the changes was cutting down on sugar and basically limiting her consumption of anything unhealthy — nothing processed or junk foods, at least not as often as before.