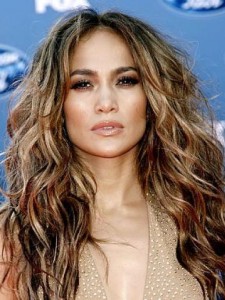 Multi-talented superstar Jennifer Lopez is one of the few stars in Hollywood who only keeps on looking more fabulous as she ages. Beginning an acting career in the late 1980s, she went on to achieve success for her first ever leading role in Selena (1997), which led her to star as the female lead in Out of Sight (1998). She then made the risk of venturing into music, releasing her debut album in 1999. Instead of affecting her career negatively, she found greater success as a singer with numerous international hits. Since her debut, she has released seven albums throughout the years, all obtaining success. Her success as a movie star also continued with performances in the box office hits The Wedding Planner, Maid in Manhattan, Monster-in-Law, and most recently, The Boy Next Door (2015).
The vivacious star has long been known for her amazing figure, especially her notorious buttocks, which she often showcases in her music videos through her dance moves, as well as through her fashion. With her looking so great despite being in her late 40s and for being a mom of twins, it's no wonder that Jennifer practices a healthy lifestyle. Also known for her incredibly trimmed abs, she maintains her awesome physique by working out regularly and of course, eating healthy.
For one, Jennifer stays away from hard partying. Despite working almost the whole day everyday, the celebrity maintains a healthy habit by following a sugar-and-salt-free diet, abstaining herself from cigarettes and alcohol, and trying her best to sleep for eight hours a day. Interestingly, there was one point where she underwent a 22-day vegan challenge for the purpose of resetting her eating habits and losing weight. In addition, when asked about her general diet, she said: "I don't deprive myself. But I've learned the importance of maintaining a healthy lifestyle." She also revealed her fondness for fruits and vegetables which she eats for snacks instead of unhealthy food items.