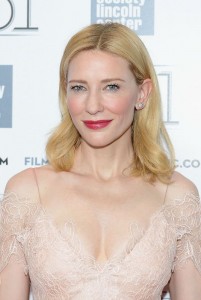 Aussie actress Cate Blanchett may be nearing her 50s but it doesn't show, not a bit. Now considered as one of the top-rated actresses in the world, Cate began acting on stage and then on film. After a few performances, she won international acclaim for her portrayal of Queen Elizabeth I of England in the bio movie Elizabeth (1998), for which she won a Golden Globe and a BAFTA for Best Actress. Her portrayal of Katharine Hepburn in The Aviator made her the only Oscar winner (Best Supporting Actress) to win award for playing another actress. She has since received Oscar nominations for her performances in Notes on a Scandal, Elizabeth: The Golden Age, and I'm Not There. She got her first Oscar Award for the Lead Actress category for her role in Blue Jasmine (2013). She's also known as Galadriel in The Lord of the Rings films. Recent movies are Cinderella and Carol.
46-year-old actress keeps her appearance vibrant and healthy by not allowing herself to indulge in activities that only bring her more harm than good. Being in the show business for a long time and with the success she's earned throughout the years, it can be said that she's very disciplined when it comes to her lifestyle choices. The actress revealed that she doesn't practice any particular diet plan but she tries to stay away from wheat even though she's very fond of bread. She also added that she stays away from foods that have additives.
Mostly in the morning, Cate drinks lemon juice and hot water. This sort of cleanses her body. She also admitted that although she tries to stay away from stuff that's unhealthy, she knows that she has to live her life to the fullest, so she also has a cheat day and allows herself to drink champagne in the evenings. Interestingly, Cate has also undergone a detox called lymphatic cleanse for liver, kidneys and gallbladder. She clarified it wasn't for losing weight, but as mentioned, detoxifying her body. For a month, she only drank herbal drinks to renew everything and she claimed she didn't even eat for a week, but that it was worth it because she felt amazing afterwards.